In our last blog, you have read about the 4 most famous fancy (colored) diamonds of the world. But, the fact is the thirst to know more about the fascinating colored diamonds is never quenched and we want to read more and more about them. They really take us to the marvelous world of sparkling diamonds. We know this well and hence have come up with one more post, highlighting another 4 popular colored diamonds of the world. Let's check them out:
1) The Pumpkin Diamond:
It is interesting to know that this diamond got its name 'Pumpkin Diamond' because it was acquired at the auction by House of Winston on the day just before the Halloween. This is orange colored diamond and largest one in this color. It is cushion cut and looks irresistibly beautiful.
2) The Rainbow Collection:
Unlike the others, which are single pieces of colored diamonds, this collection has 300 natural fancy diamonds. The collective weight of these diamonds is 340 carat approx. This collection is exhibited more than 47 times around the globe and is insured for US $60,000,000.
3) The Ocean Dream Diamond:
The deep blue-green color of this 5.51 carat diamond is one of the rarest hues found and it is so perfect that some people consider that it is lab treated to obtain the color. Yet, the fact is that it is 100% natural and is certified by the GIA.
4) The Heart of Eternity Diamond: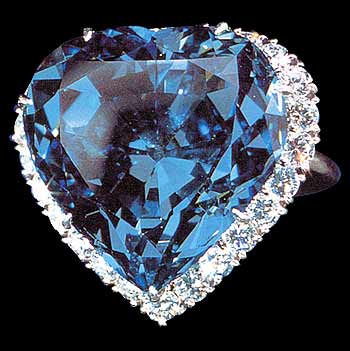 The stunning blue colored diamond is cut in the heart shape. It weighs 27.64 carat and is certified VS2 quality grade by the GIA. This fascinating diamond is one of the rarest gems found on the earth.